About
Whistle Wishes is a pony from the G3 franchise.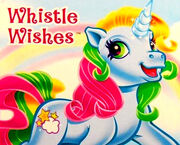 Appearance
Whistle Wishes is light blue with yellow, green and fuchsia hair. Her eyes are violet while her cutie mark is a cloud with two small stars and a larger star. She's first seen at the beginning of "The Runaway Rainbow" catching a ribbon in the air. Later, she's playing with the large pile of bubbles created from trying to get the Crystal Rainbow Carriage clean. After Rarity accidentially disappears, she and the other unicorns set out to look for her. She also appears in "The Runaway Rainbow " for Gameboy Advance.
Merchandise
Whistle Wishes was among the Crystal Princess Unicorn Ponies.