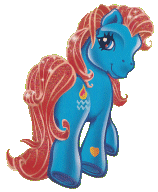 About
Waterfire is a character from the G3 franchise.
This quiet pony always brings a big stack of books to the beach. She doesn't get to read much, though, because all her friends want her to watch their daring dives! - Waterfire's backcard story from the back of her toy's box.
Appearance
Waterfire is blue pony with orange hair. Her eyes are blue and her cutie mark is a flame over water. She makes a few cameos in
A Charming Birthday
but her colors are much lighter. She's first seen clapping with Spring Fever after
Minty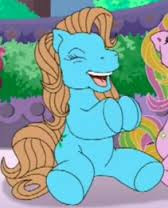 saves the teacups. Later, she can be seen with Spring Fever again in the background as
Razzaroo
discusses the matter at hoof.
Merchandise
Waterfire was released as part of G3's Shimmer Pony line and as a bonus pony with the Butterfly Island Adventure playset and features a unique pose and facial expression.