About
Sweetberry is G3 earth pony. She first appeared in "A Charming Birthday". She has made appearances in most if not all of the G3 movies.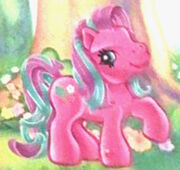 "Ah, our sweet Sweetberry. Sweetberry's favorite thing is to make sweet treats—from flour, of course! Unfortunately, they aren't always yummy, like the one and only time she let Minty help and they created a blueberry-broccoli pie. You know Minty. It had to be green, of course!" '- 'Razzaroo's description of Sweetberry in "A Charming Birthday".

With so many fun activities to choose from in Ponyville, SWEETBERRY is busy all the time! She already has lots of adventures planned for today. - Sweetberry's backcard story from the back of her toy's box.
Appearance
Sweetberry is dark pinkish purple with purple and teal hair. Her cutie mark is a group of different flowers. She also appeared in most of G3 movies. Sweetberry first appears in "A Charming Birthday" as one of the ponies suggesting a charm bracelet. Later, she's seen topping off a cake behind Cotton Candy, whom is playing checkers with Pinkie Pie. Unfortunately, the cake topples over and Sweetberry ends up in the mess as she tries to intercept the collapse.
Sweetberry can also be seen in a 3D animation as part of a commercial for the Cotton Candy Cafe playset. There, she calls over the ponies into the Cotton Candy Cafe.
In "A Very Minty Christmas", Sweetberry is helping Cotton Candy and Triple Treat decide on the Here Comes Christmas Candy Cane design. Later, she's among the ponies when they figure out Santa is the one that fixed the tree and the Here Comes Christmas Candy Cane.
In "The Runaway Rainbow", she's at the Cotton Candy Cafe and offers a hungry Rarity a slice of leftover cake, only to watch in disbelief as the cake disappears piece by piece. She also appears in the Game Boy Advance adaptation of the movie with an additional role of needing more rainbowberries for treats she plans to make.
Occupation
Sweetberry works at the Cotton Candy Café. She makes sweet treats for other ponies.
Merchandise
Sweetberry had some merchandise over the years G3 was in production.
Trivia
Sweetberry's voice actor Kathleen Barr also voiced Puzzlemint in G3 and Trixie in FiM.
A 3D animated Sweetberry is created by EnSky Studios. The 3D animated commercials are done in Alias|Wavefront Maya 4.5 and RealFlow 2.5 in September 10, 2003.