Jurassic World: Dominion Dominates Fandom Wikis - The Loop
Play Sound
About
RAZZAROO can hardly believe her special day is finally here: it's her birthday! Tonight all her friends are coming over for a big party, and she can't wait! She's making a list of all the fun treats she wants for her party... it's sure to be a blast! - Razzaroo's backcard story from the back of her toy's box.
Razzaroo is bright and attentive, noting each pony's distinctive traits and qualities in her official Ponyville Surprise Birthday Book. Her role as a surprise birthday planner means she regularly thinks about other ponies and what they like. She always says "yes, yes, yes," for agreement and "no, no, no" for disagreement with others.
Despite her thoughtfulness and ability to plan, Razzaroo's coordination skills leave much to be desired. Mostly interested in documenting, Razzaroo exhibits little control over other ponies who opt to help her. She becomes overwhelmed, exasperated, or anxious when things don't go according to plan, although other ponies are usually genuinely interested in seeing her plans come to fruition. Quick thinking on her part or cooperation with her friends will pull Razzaroo out of a jam.
Media
Razzaroo is a periwinkle pony (mauve in the 2002 pilot) with white, hot pink, and turquoise blue-streaked hair, turquoise blue eyes, and a cutie mark of a gift-wrapped parcel. Razzaroo's main appearances are in the television pilot and in "A Charming Birthday", where she serves as the movie's narrator and main character, introducing the characters and their past birthdays. She keeps track of each pony's birthday by putting pictures of them in her Ponyville Surprise Birthday Book and how it went but doesn't have Kimono's as they'd never been able to surprise her up until this point. Later on, she catches Minty just before she heads out and reminds her of her task. She plays no part in the actual decision making but ends up getting dizzy and even mistakenly calls Pinkie Pie Sunny Daze.
In "A Very Minty Christmas", she has a cameo during Minty's "Nothin' Says Christmas Like a Pair of Socks" and can be seen with several others giggling in a circle with their socks on. She is voiced by Jillian Michaels.
Merchandise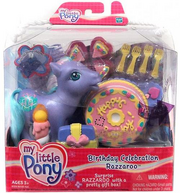 Despite being a main character in "A Charming Birthday, Razzaroo got very little merchandise.