About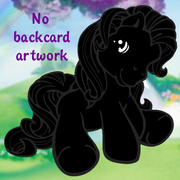 Pink Sunsparkle is a girly girl baby pony in the G3 franchise. She is magenta with sunshine yellow, hot pink, amber, and violet hair. Her eyes are turquoise blue and her cutie mark is a large turquoise blue heart with a smaller hot pink heart surrounded by a gold sparkle.

PINK SUNSPARKLE is the youngest and tiniest pony in Ponyville. The other ponies are like big sisters to her, and she always wants to follow them on their adventures. She'd never run too far from the Celebration Castle, though, because this is where all the ponies gather to play and plan exciting parties! - Pink Sunsparkle's backcard story from the back of her toy's box.
Media
Pink Sunsparkle She only appears in the the 2002 television pilot and the commercial for the Celebration Castle play set. She is voiced by Chantal Strand. This 3D computer animated commercial was done with Alias Wavefront Maya and Avid DS on October 20th, 2003.
Merchandise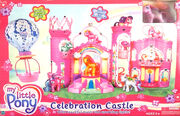 Pink Sunsparkle was released with the Celebration Castle playset and as a Target Exclusive 3-pack with Fluttershy and Toola-Roola.