About
Desert Rose is a minor character in MLP. She makes multiple cameos throughout the G3 movies, mostly without saying anything.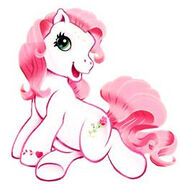 Sweet DESERT ROSE wants to fill everyone's life with flowers, and always has a pretty blossom to give to her friends. Sweet scents always fill the air when DESERT ROSE is around! - Desert Rose's backcard story from the back of her toy's box.
Appearance
Desert Rose is white with pink hair. Her cutie mark is a pink rose while her eyes are green. She first appears in "Dancing in the Clouds" watching Skywishes and Twinkle Twirl ride the rollercoaster. Later, she appears among the group Twinkle Twirl selects to practice the dance for the Friendship Ball taking place that night, albeit with the wrong hair colors. Desert Rose appears in the online "Dance Studio" game by Hasbro as one of 5 possible ponies to perform on stage. In "A Very Minty Christmas", she can be seen next to Pinkie Pie giving her speech with the scroll detailing Rainbow Dash's achievement. She's also in the audience in "The Princess Promenade" and The Runaway Rainbow. In "Positively Pink", she, Gem Blossom and Daisyjo sing about their activites regarding their surprise party for Pinkie Pie. She also makes a cameo in "Twinkle Wish Adventure".
Merchandise
Desert Rose was released as a toy for the Friendship Ball theme.