About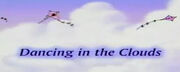 Dancing in the Clouds is the second movie of the G3 My Little Pony franchise. It was first shown to hundreds (if not thousands) of kids in New York City, Los Angeles and Chicago in Lowes movie theaters as part of the Starlight Starbright Children's Foundation. Those that attended the screening got to take part in the after party with facepainting and storytelling. The movie was then a direct-to-home video release in 2004 on VHS. The episode was then re-released as a DVD storybook called Dancing in the Clouds on the 10th Jan 2006 as part of the Classic Movies Collection. The storybook itself is 32 pages long. It was also a bonus episode on the US version of the My Little Pony: A Very Minty Christmas DVD.
Dancing in the Clouds is a short film where Twinkle Twirl needs help for the upcoming Friendship Ball and Skywishes makes that happen with the special dance in the clouds.
Story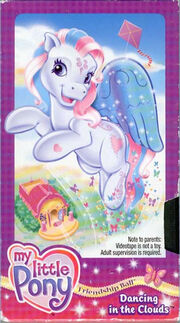 Scooter Sprite is skating along while Pinkie Pie and Rainbow Dash are setting up a banner. Sunny Daze tries to warn her but it's too late and ends up in a tangled mess with Scooter Sprite. After being unable to free themselves with tugging, they get free just by shaking their heads. No one is really hurt and they have a good time. Meanwhile, Skywishes wants to help out Twinkle Twirl and gets a kite to go after. The kite leads her to a roller coaster and she agrees to take a ride with Twinkle Twirl. They get their idea for the Friendship Ball by the time their ride is over and head into Twinkle Twirl's Dance Studio to practice.
Once inside, they need more practice as the whole routine is confusing to the others. Even when Twinkle Twirl guides them, none of them can follow how to do it properly and literally end up all over the place. Needing more help, Skywishes heads to Butterfly Island and makes the big wish that brings Star Catcher to her. As a result, Star Catcher has the exact way to dance in the clouds but Skywishes cannot tell anyone about Butterfly Island. That night, the Friendship Ball is underway but practice is still going so Skywishes makes one final wish and this time Star Catcher is ready with her butterfly friends. They lift several ponies into the air and around the room like a roller coaster before setting them back down to the delight of the crowd. Rainbow Dash gives an award to Twinkle Twirl but Twinkle Twirl decides to share it with Skywishes for her contribution.
Characters
Screenshots
TV version
March 27, 2005
Transcript
To view the transcript, click here.
Video