About
Cloud Climber is a minor character in the G3 franchise. Like the other pegasai, she lives on Butterfly Island.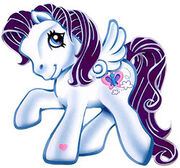 CLOUD CLIMBER likes to soar so high in the sky, she can even jump over the rainbow! Once she's back on the ground, her favorite treat is a big bowl of chocolate ice cream - with rainbow sprinkles! - Cloud Climber's backcard story from the back of her toy's box.
Appearance
Cloud Climber is white with dark purple hair. Her eyes are light blue and her cutie mark is a butterfly with pink and purple wings and a blue body. Her only appearance is in "A Very Minty Christmas" but she can be seen throughout, generally with Thistle Whistle. She first appears among the crowd gathered to hear Pinkie Pie's speech and during which is calming Thistle Whistle's fears of having to fly in into the clouds. Later, she's seen with Thistle Whistle helping get decorations up on the tallest tree in Ponyville. She can later be seen again with Thistle Whistle, disliking the idea of Minty helping re-hang the banner. After Minty and Pinkie Pie get the balloon snagged on a tree branch, Cloud Climber joins Thistle Whistle and Star Catcher in rescuing the two of them.
Merchandise
Cloud Climber was initially released as part of a First 50 WIA auction, then later released to the public in 2005 as part of the Butterfly Island Dream Design Ponies, whom have 3D cutie marks.