About
Butterscotch is a pony from the G3 franchise.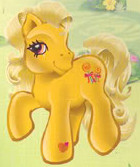 BUTTERSCOTCH loves spending time with her friends, and remembering all the good times they share! She keeps lots of scrapbooks filled with photos and letters and souvenirs. For BUTTERSCOTCH, every day is a chance to create a wonderful new memory! - Butterscotch's backcard story from the back of her toy's box.
Appearance
Butterscotch is yellow with pale yellow hair. Her eyes are pale pink and her cutie mark is two butterscotch lolipops. She appears as a background pony in "Positively Pink" and in a 3D animation for a commercial advertising Scooter Ponies and Dres-Up ponies. This commercial is done in Alias Maya 6.0.1 and RealFlow 3.0.1 in October 20, 2005. She can be seen among the crowd giggling after Minty accidentially ends up in the bucket of pink paint.
Merchandise
Butterscotch was first released in the US as a two-pack with either Minty or Sparkleworks. In Europe, she was sold as a single pony. Later, she was re-released in the US as part of the Berry Pickin' Fun" playset. Following that, she had an Easter theme and was dressed up for the occassion and released in an egg-shaped box. Butterscotch also made appearances in a few of the G3 books.
Figurine:
Non-Figurine:
Trivia
Butterscotch is also the name of a pony released in the 1st generation of the franchise.