About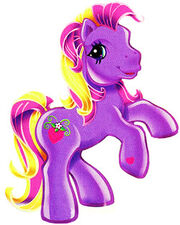 Bumbleberry is a pony from the G3 franchise. She is violet with magenta and sunshine yellow hair. Her eyes are aquamarine and her cutie mark is a strawberry with vines.
There's so much to do on an island as magical as this that a pony needs a zippy scooter just to get it all done! Put BUMBLEBERRY on her scooter, but make sure she wears her safety helmet... its visor goes up and down! Pull back on the scooter, and it zips forward... she's off to start her day! BUMBLEBERRY comes with a packed lunch but she might not need it... she's found a field full of strawberries to pick! - Bumbleberry's backcard story from the back of her toy's box.
Media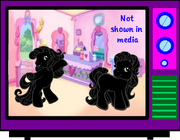 Bumbleberry's lack of merchandise and/or popularity compared to other ponies was likely a result of her not making any media appearances.
Merchandise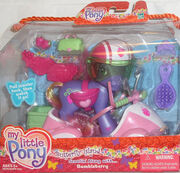 Bumbleberry was released as part of the Butterfly Island Scooter Ponies.