Not to be confused with the species with the same name.
About
Breezie is a pony from the G3 franchise. She is light yellow with gold hair. Her eyes are green and her cutie mark is a tree blowing in the wind.
Media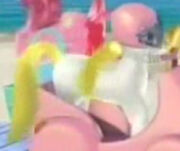 Her only on-screen appearance is a 3D animation in a commercial advertising Scooter Ponies and Dress-Up Ponies. She can be seen driving on the boardwalk, passing ponies playing along the way. This 3D animated commercial was done in Alias Maya and Avid DS on July 20th, 2005.
Merchandise
Breezie was included as part of the Butterfly Island Scooter Ponies.